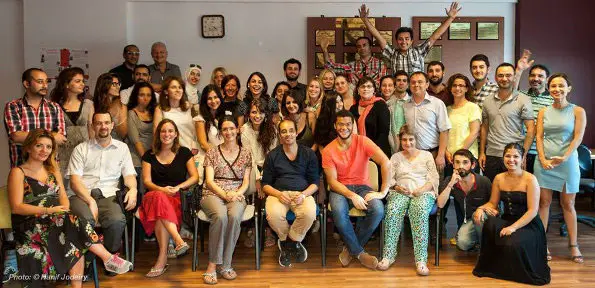 CELTA
Internationally recognized qualification
DELTA
Advanced TEFL/TESOL qualification
MA TESOL
Masters in TEFL/TESOL
Get Qualified With Our Recommended Courses

Option 1.  The  Cambridge CELTA.
It costs approximately 1,100GBP and takes 4 weeks.
Option 2:  An online TEFL from I-to-I.
It costs approximately 350USD and takes 120 hours.
To teach legally these are the minimum standard of teaching certificates needed in Turkey
---
Requirements to Teach in Turkey
The qualifications you need to be an English teacher depend largely on the country where you want to work.
If Turkey is your chosen destination, and you want to work legally, you will ideally have a university degree and a TEFL certificate of some description.
You can get work without a university degree but your options will be more limited.
While most employers prefer teachers to have a CELTA certificate, the minimum requirement from the Ministry of Labour for a work permit is a 120 hour online TEFL certificate.
---
CELTA Courses in Istanbul
When prospective employers ask, 'have you got a TEFL certificate?' what they are usually referring to is the Cambridge CELTA or the Trinity Certificate TESOL, or a certificate gained from doing a course of equivalent length and value as these two.
As the basic 'industry standard' qualifications, the CELTA or Trinity Cert TESOL would be best to get you up and teaching English as a foreign language.
If you would like to take the CELTA in Istanbul there are new courses starting every few weeks at a superb internationally recognised and Cambridge accredited training centre which was established in 1987.
We are an internationally recognised Cambridge English teacher training centre and the only Cambridge English approved centre for both the CELTA, ICELT and Delta courses in Turkey. We've successfully trained thousands of EFL teachers since we first began running courses in Istanbul in 1987.
Complete your teacher training with a course that suits you.
We have part-time, full-time and on-line options.
Our team of experienced trainers is committed to raising teaching standards, and over the years our services (often tailored to meet specific needs) have provided ELT institutions with the means to respond swiftly in the fast changing ELT environment.
---
How to Apply
1.  Complete the application for here.

2.  The course director will contact you with the next steps.
Please contact info@englishjobsturkey.com if you have any problems with the application procedure.
---
Timetable
Monday/Tuesday/Thursday/Friday 08:45-18:00
CELTA Duration: 4 weeks
Part time, full time and online options.
---
Price
Standard Course Fee: £1,100 Deposit:  £540
---
Help for Jobs
We have an established reputation with ELT institutions in the region and provide a job placement service for participants on our training courses. The school's Job List is used extensively by ELT institutions to recruit teachers and they have over 2,500 subscribers.
---
Start Dates
New courses start every month but place are limited so get in touch as soon as possible to book your place.
---
CELTA Application Form
---
Please contact info@englishjobsturkey.com if you have any questions at all.
All The Teaching Books You Need

Online TEFL Certificate From i-to-i
i-to-i's online training is focused on interactive learning and the TEFL courses are unique in that they are not just a text heavy course-book online.
The online course is centered on video content, real life classroom scenarios and features personalised expert TEFL tutor support and feedback. This combines to deliver the very best TEFL e-learning experience. By choosing the i-to-i Professional TEFL Certificate you will learn the following:
•  TEFL Essentials - You'll start by learning the fundamentals of Teaching English as a Foreign Language, this is the start of your journey to becoming an internationally certified TEFL teacher
•  Classroom Management - We'll teach you how to manage your class and keep your students engaged. From day one you'll be in control as the teacher.
•  Planning Lessons - You'll be 100% equipped to plan engaging lessons and adapt your teaching style to ensure your students achieve their goals.
•  Grammar - Our expert tutors will help you understand the foundations of grammar and show you how to deliver this to your class in a fun and interesting way
•  Vocabulary - You'll learn a range of strategies and activities to increase your students' ability to learn new words.
•  Pronunciation - There are common pronunciation difficulties that English language learners face. We'll give you the skills and tools to help your learners overcome them
•  Read, Write, Listen, Speak - We'll get you ready to deliver all of the common TEFL lessons and teach you how to assess your students' levels.
•  Cultural Awareness - Cultural sensitivity is key to having a positive TEFL adventure, both inside and outside the classroom. That's why we'll show you what to do (and what to avoid) when teaching English abroad!
•  Starting your TEFL Career - Having mastered all things TEFL we'll give you everything you need to kick-start an exciting career. We'll teach you how to find the best jobs, and how to choose a reliable, rewarding and secure TEFL position!
Reviews from leading language school employers...
"i-to-i grads are notably more prepared. They have a clear advantage over other candidates in the sense that they are motivated and ready to step into the classroom. They have a higher degree of confidence, and that shows in the classroom and in the interview."
"There are a lot of TEFL certificate programs out there, but the one that I always recommend to teachers looking to teach overseas is the TEFL certification through i-to-i. Unlike many TEFL programs out there, i-to-i is internationally-recognized. This means that the teacher training will be recognized around the world. This is very important as there are several TEFL programs that are NOT recognized. As a hiring agent, I know that when an applicant has a qualification like an i-to-i TEFL certification, they are likely going to be hired faster."
John Morgan
Managing Director
Morgan Recruiting