The Ultimate Guide to Teaching English in Turkey
Get A High Paying Job Teaching English No Matter Where You Are From!
Finding it hard to get hired because you aren't a native speaker?
What if you knew exactly how to show employers why they should hire you?
Follow the simple but little known steps in this guide and get hired fast.
All your questions will be answered.

The exact proven step-by-step system for getting a job teaching English in Turkey.
Results oriented:
Increases calls to interview x 3.
Reduce job hunting time.
Get a CV better than 90% of all other applicants.
Know how to answer ALL the key interview questions.
Complete hand holding.
Hundreds of teachers already hired using these steps.
Telling you EXACTLY what to do.
Walking you through the entire process.
All your questions answered.
100% money back satisfaction guarantee.
Questions answered:
How do I get a residence and work permit?
What is the best way to apply online?
What should I do if I am asked to give a demo lesson?
How can I find a good job with a reputable institution?
What certificates and qualifications do I need?
How can I apply for university jobs in Turkey?
What salary can I get and how much work what are the conditions?
How can I motivate students?
Where can I find appropriate materials?
Instant access to over 10 years of knowledge and experience in Turkey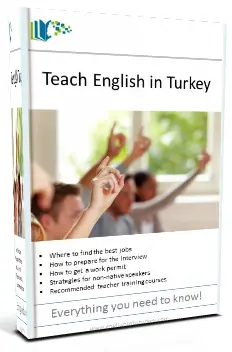 Where to find the best jobs
 How to prepare for the interview (with example answers)
 How to get a work permit
 Specific strategies for non native speakers
 Start earning money from teaching before you even get a job!
 Recommended teacher training programmes
 100% MONEY BACK GUARANTEE - NO RISK
A step by step guide to getting an English teaching job in Turkey (for non-native speakers).
Everyone has different qualifications, experience, appearance, accent and English ability so it's impossible to *guarantee* a job to anyone.
However, this is a results oriented guide book.

If you follow these steps carefully you will:
Be following a tried and tested path to success.

Be in an excellent position to get hired in Turkey or anywhere else.

Separate yourself from the crowd.

Get called for interviews more often.

Look professional and ready to work.

Understand the mistakes most people make and how to avoid them

Where to search for a job and when to apply for maximum results

Discover how to make money from teaching even before you get hired!
There are many elements involved in getting a job.
Each element has to be carefully developed in order to impress the recruitment manager.
This guide is designed to help you understand the elements which you can control and show you how to maximise each one to your advantage.
Following the advice in this guide will prepare you in the best possible way to get a job.
You will be more prepared than 99% of other applicants.  You will be able to confidently hunt for jobs, safe in the knowledge that you have done everything within your power to be successful.
Here are the facts…..
You want to work as an English teacher in Turkey but you don't know how to land a job.  You have emailed your CV to a number of different places but had very little response to your applications so far and you can't understand why.
Your English is very good, you might already be qualified and experience in your own country.
Do your job search the wrong way and you're just wasting your time.
Learn the "right" way and you'll get a job offer fast!
The Ultimate Guide to Teaching English in Turkey