New Turkish Residence Permit Application System Launched 18th May 2015
From the 18th May 2015 Turkish residence applications, modifications and extensions will be done online and NOT at your local police stations.
Here is a link to the application and extension form: https://e-ikamet.goc.gov.tr/
More information can be found in English here:  https://www.goc.gov.tr/icerik6/e-residence-applications-are-being-received_914_1015_5778_icerik
The old appointment system now only shows this announcement in Turkish: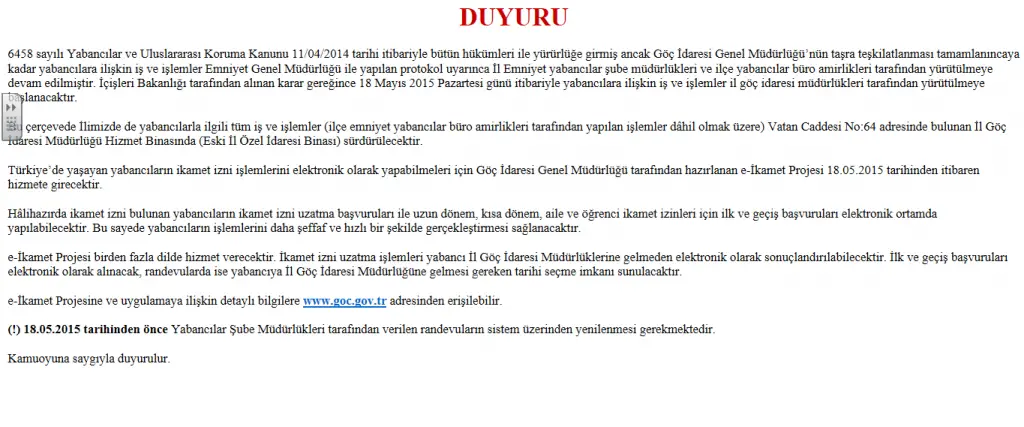 There are bound to be numerous teething problems so please share your experiences in the comments below so we can help each other navigate through this transition period.
On the surface it looks like the system will better than before, let's just hope that's the case in reality.
Applications are made online and appointments are attended in person on the given date at the İL GÖÇ İDARESİ MÜDÜRLÜĞÜ according to your city of residence.
Contact details for each city can be found here:  https://www.goc.gov.tr/icerik3/provincial-directorate-addresses_916_1052_5770
All residence permit appointments for Istanbul's will next to the Vatan police station at:  HIRKA-İ ŞERİF MAHALLESİ VATAN CADDESİ NO:64/ 34091 FATİH / İSTANBUL
Map
(Link: https://goo.gl/maps/fB7CK )

Outline of new residence permit procedure
1.  Go to https://e-ikamet.goc.gov.tr/
2.  Select appointment type and complete application form
To complete the form you will need a photo (file size less than 500kb), and a residential address in Turkey.
3.  When you submit the form, the required documents list will be displayed according to your application type, country of origin and possibly some other factors.
For a UK/US citizen, applying for a long term residence permit the documents are listed as follows:
Documents (for UK/US citizen, first application, long term permit)
Residence Permit Application Form (Signed)
Original copy and photocopy of passport or passport substitute (the pages which are processed with the pages over which there are identity information and photo)
Submission of the previous residence permit, if available
Two (2) photographs
Document that showing the address based registration system
Documents relevant to requirements determined by Migration Policies Board
Obviously the last two present the biggest challenge.
'Showing the address based registration system'
If you have a place to live in Turkey, then you need to go the to 'Muhtarlık' in your area, register your address against your name and ID number and they will print a sheet for you.
If you don't have an address I am not sure, at this point, what you will do.  Perhaps a friend or colleague will allow you to state their address and you can change it later.
'Documents determined by Migration Policies Board'
I have no idea what this means!  Can anyone help?
Additional Notes
Additional information and document may be requested by administration.
Photo must be taken within the last 6-month (frontal, clear face, in a way that the foreigner can be recognized easily) with a white background and as biometric.
In cases where passport is not written in Latin letters, certified translation by a sworn translator or official authorities shall also be added to the application.
If name and surname have not been written seperately in the passport, the foreigner is requested to submit a document showing his/her clear identity information to be taken from his/her own representative office.
It is required to submit the passport or valid documents (with the page of identity information and photograph and the photocopies of the processed pages)
Administration may request certificate of birth for foreign minor in the process of application for residence permit.
The foreigner shall be given the complementary information and documents required during the application and he/she are required to submit those documents max. in 30 days. Otherwise, the application shall be cancelled
In cases where the person concerned is under the age of 18, a deed of consent which shall be given by his/her mother/father who lives abroad or by legal representative and also the recognizance which shall be given by natural or legal persons on condition that it is stated in the deed of consent are required to be submitted to the administration.
Also, please visit the address below stated for residence permit application documents and required explanation https://www.goc.gov.tr/icerik6/ikamet-izni-basvurulari-icin-gerekli-belgeler_350_361_3603_icerik
Outline of new work permit procedure
1.  Employer will request approval from Ilçe.  Applicant will need to provide original university certificates and teaching certificates by courier.  Documents needs to be notarized and translated. Ilçe approval can take up to 3 weeks.
2.  When Ilçe approval is granted, the applicant can make an appointment at the Turkish consulate in their home country.
More information here:  http://www.turkishconsulate.org.uk/en/visa.asp?PageID=5#5
Appointment page for the UK: http://www.turkishconsulate.org.uk/en/workvisa/default.asp
3.  Applicant will attend the appointment with a valid passport, job offer letter from the employer, signed contract and 2 photos.
IMPORTANT: The requested duration and dates for work visa must match in Job Offer Letter, Employment Contract and Application Form. In case of any discrepancy, the Employment Contract will be taken as basis for the respective application and the applicant shall be liable for any problem arising directly or indirectly from such discrepancy.
4.  Once Phase 1 approval is granted the applicant must forward this approval to their employer and the employer should start the work permit application within 10 days.
5.  The Ministry of Labour assesses the application and responds in 4 to 6 weeks.
Ministry of Labour sends an approval message to the applicant (or to the employer) and urges the applicant to collect the visa from the Consulate
At this stage, the applicant must obtain the second appointment at http://www.turkishconsulate.org.uk/en/visa
web page as a standard visa application and attend in person.
6. Once the applicant submits the passport, the passport with the work visa on it can be collected in approximately three (3) working days.
Note: Applicants are advised to book in advance for the second phase that would cover the week coinciding with the potential dates for application to come out from the evaulation with the Ministry.
For all work visa related inquiries, please contact us at londra@csgb.gov.tr or at 02075815988 (between 15:30 – 17:30).